Sometimes Christmas can become an expensive time. With many people to buy for, secret Santa's all the presents you have to get for people you didn't even know knew your name.
At times like this I like to rely on offers, it's the best way to get quality gifts for half the price it should be.
Lots of shops have thousands of deals on at the moment. Boots famous 3 for 2 is back again featuring a lot of products from Soap and Glory.
Soap and Glory are usually a fairly expensive brand compared to others in the drugstore. But Christmas is the perfect time to stock up on their products.They do sets involving full sized products which work out being half the price if you bought all the products together. One in particular is the
The Soap and Glory Soaper Star for just £20 you get two full size products. Including the

SOAP & GLORY CLEAN ON ME Moisture Shower Gel

SOAP & GLORY THE SCRUB OF YOUR LIFE Body Buffer ,

SOAP & GLORY THE RIGHTEOUS BUTTER Body Butter,

SOAP & GLORY HEEL GENIUS Foot Cream,

SOAP & GLORY HAND FOOD Hand Cream,

Fluffy socks,

Body Polisher.
Another brand that is giving you a lot for your money is Sanctuary, i have always viewed this as an expensive brand. With some of their skincare being overpriced in my opinion.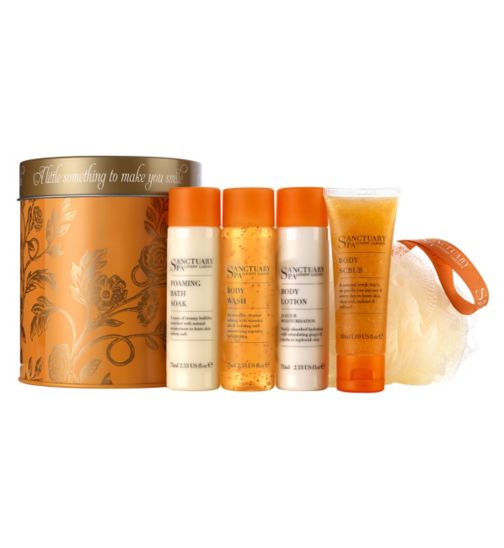 Cleansing Burst Body Wash (75ml),
Silky Smooth Body Lotion (75ml),
Foaming Creamy Bath Soak (75ml),
Gentle Polish Body Scrub (50ml),
Buff and Polish Body Puff. All this just for £10. One thing I love about sets like this is that you can get products to test meaning that if you like it and want to full size version you can at least guarantee that you like it.
Gifts like this are inexpensive and can suit anyone really, and with the 3 for 2 offer you can afford to get gifts for different people without breaking the bank. This is perfect for anyone in need of that last minute shopping.